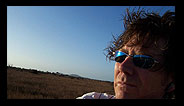 Leith O'Malley
"What is it that keeps one painting or illustrating at every chance they get? Is it the promise of recognition, fame and riches? Or is it something much deeper than this? For myself, I have simply always got tremendous satisfaction from the act of drawing or watching something materialise on a sheet of paper in front of me. There is something special about this act which draws me back time and time again. I guess that like a musician, creating art can transport you to another world and for my own part this has become a very addictive but rewarding ritual.
I am just grateful that so many other people enjoy the result of this self indulgence..."
Leith O'Malley
[...Paintings]
Biography
Leith O'Malley was born with pencil in hand in Mount Barker, South Australia but has spent the majority of his life living in the city of Whyalla, South Australia. His passion for drawing came at a very early age, being influenced by the illustrative style and cartoon work of American "Mad magazine", and later by notable Australian newspaper cartoonist Paul Rigby, Michael Leunig and American poster artist Rick Griffin.
Leith's early work in Adelaide included freelance illustration contributions to various magazines, before moving to Whyalla in 1986. He was quickly snapped up to provide regular cartoons to Steel City Times and later became the editorial cartoonist for the Whyalla News.
Leith made the transition from line to brush in the early nineties after workshops with Blake and Wynne Prize winning Australian War Artist "George Gittoes". Soon after Leith co-founded the "Red Dust Contemporary Art Group" exhibiting artwork throughout regional and metropolitan galleries. Since this time Leith has continued painting and exhibiting his work, holding a number of commissions for artwork and being invited to contribute to several touring exhibitions. In 1999 Leith won the Whyalla Industrial Art Prize for his large haunting oil on canvas "Industrial Refugee".
The ability to work in many mediums including digital has allowed Leith to have his work seen by a much larger audience, yet still enjoy the choice of living in the country. Now with a presence on the internet, Leith's traditional and computer illustrated work is popular with both Australian and International media and business organizations.
Clients who have used Leith's graphic work have included the Guenette Production Company (Los Angeles), Le'Mag Magazine (France), BHP (Australia), Tokyo Electron (Texas), Bristol University (UK) and even the United States Coast Guard.
Although he will tell you that the computer will never replace the feeling of brush on canvas or pen on paper, Leith's ability to use the tools of both traditional and digital mediums has opened further windows of opportunity for him, and also given visitors from around the world the opportunity to discover yet another creative South Australian.
Leith is currently preparing more work for his ongoing exhibition "Jazz Is Art, Art Is Jazz" which is a collection of both oil and pastel works with a jazz theme. A huge contemporary and traditional jazz fan, his love of this music led him to take up the tenor saxophone a few years ago and it is the music of choice when he is working on any of his paintings these days.


E-Mail:
leith@leithomalley.com
More informationen:
www.leithomalley.com